Colored Platter With Gold Leaf, "Submarine Sunlight"
This decorative platter is about 10" in diameter. It is made of highly figured Big Leaf Maple that I colored selectively with aniline dyes. To diffuse the dyes into the wood, I sprayed the top surface with denatured alcohol, which partially dissolved the dyes and infused the various colors into each other. This design is based on a platter made by a world-class wood turner, Jimmy Clewes, from Yorkshire, England.
The center cavity is lined with 24-karat gold leaf. The underside has been left in its natural state, with a small cabachon of abalone inlayed into the foot.
The platter was then carefully finished with walnut oil and carnuba waxed and buffed to a low-gloss finish that leaves the lustre of the wood and the dyes highly visible.
Typically, I sell this kind of platter for $250.00. Please call me or email me if you would like to order a similar design, perhaps in a more highly figured wood or with different colors.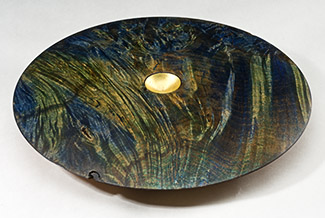 To order framed or unframed prints of this image please call Andy Johnson-Laird at 503.274.0784 between 8:30 a.m. and 5:30 p.m. Pacific time.

7" x 5"
$35
14" x 11"
$95
No
10" x 8"
$120
20" x 16"
$190
250
14" x 11"
$180
20" x 16 "
$250
100
18" x 13"
$240
26" x 20"
$315
100
24" x 16 "
$300
26" x 20"
$380
50