Beech Serving Bowl
This beech bowl is about 10" in diameter. I designed it to be a general purpose serving bowl for nuts, chips, crackers and other dry snacks. The underside has been finished with a decorative motif and a cabachon of abalone inlayed in the center.
This bowl has been finely sanded, then treated with a food-safe mixture of walnut oil and carnuba wax. With proper care (such as not washing the bowl in hot water or a dishwasher), this bowl will last for decades. The only maintenance required will be occasional application of mineral oil, walnut oil, or peanut oil, with a paper towel.
Typically, I sell this kind of bowl for $90 (in beech). Please call me or email me if you would like to order a beech bowl like this or if you would like to discuss a similar bowl but in a different, perhaps more exotic, wood.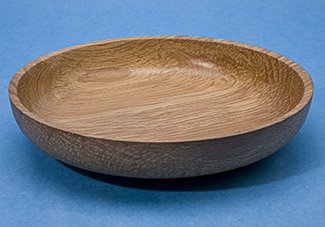 To order framed or unframed prints of this image please call Andy Johnson-Laird at 503.274.0784 between 8:30 a.m. and 5:30 p.m. Pacific time.

7" x 5"
$35
14" x 11"
$95
No
10" x 8"
$120
20" x 16"
$190
250
14" x 11"
$180
20" x 16 "
$250
100
18" x 13"
$240
26" x 20"
$315
100
24" x 16 "
$300
26" x 20"
$380
50