Beech Nutcracker Bowl
This bowl is about 14" in diameter and has, in its center, a sold brass nutcracker in the form of a ship's wheel on a screw thread -- it makes short work of even the hardest nuts.
The bowl itself is large enough to hold almost one and half pounds of mixed nuts and makes an excellent after-dinner center piece while sipping a glass of port.
The bowl as been finished with food safe walnut oil with carnuba wax and then buffed to a high-gloss finish. The brass nutcracker mechanism can be removed with just a single bolt for shipping.
Typically, I sell this kind of bowl for $150 (in beech). Please call me or email me if you would like to order a bowl like this or if you would like to discuss a similar bowl but in a different, perhaps more exotic, wood.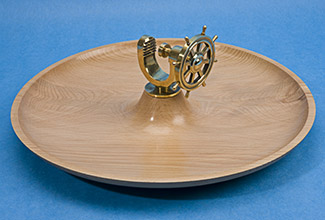 To order framed or unframed prints of this image please call Andy Johnson-Laird at 503.274.0784 between 8:30 a.m. and 5:30 p.m. Pacific time.

7" x 5"
$35
14" x 11"
$95
No
10" x 8"
$120
20" x 16"
$190
250
14" x 11"
$180
20" x 16 "
$250
100
18" x 13"
$240
26" x 20"
$315
100
24" x 16 "
$300
26" x 20"
$380
50