Walnut Bowl With Crushed Abalone Rim
This walnut bowl is approximately 14" in diameter, and 5" high. There is a decorative ring of crushed turquoise around the rim. Underneath, the foot of the bowl has been turned with a small, inlayed, cabachon of abalone shell. The description of the bowl and the artist's signature have been laser engraved in the artist's handwriting on to the foot of the bowl.
This bowl has been finely sanded, then treated with a food-safe mixture of walnut oil and carnuba wax. With proper care (such as not washing the bowl in hot water or a dishwasher), this bowl will last for decades. The only maintenance required will be the occasional application of mineral oil, walnut oil, or peanut oil, with a paper towel.
Typically, I sell this kind of bowl for $220 (in walnut). Please call me or email me if you would like to order a walnut bowl like this or if you would like to discuss a similar bowl but in a different, perhaps more exotic, wood.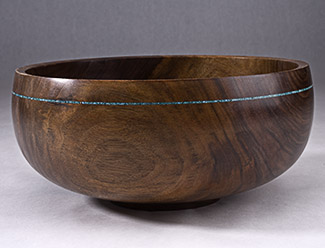 To order framed or unframed prints of this image please call Andy Johnson-Laird at 503.274.0784 between 8:30 a.m. and 5:30 p.m. Pacific time.

7" x 5"
$35
14" x 11"
$95
No
10" x 8"
$120
20" x 16"
$190
250
14" x 11"
$180
20" x 16 "
$250
100
18" x 13"
$240
26" x 20"
$315
100
24" x 16 "
$300
26" x 20"
$380
50